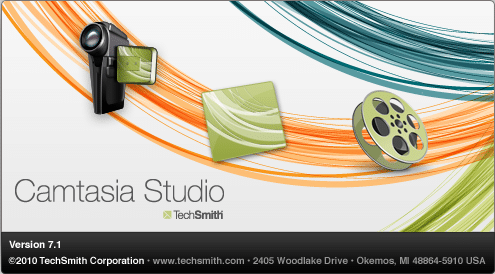 I have used Camtasia Studio by TechSmith on a number of occasions and I thoroughly enjoy their desktop recording software. Since I like Camtasia Studio so much, I thought I would write a couple of articles on using their software. Since I wanted to write a quick article about them, I contacted them and asked if they would let me host a give away for a free copy of Camtasia Studio right here on my blog. I was totally happy when they said yes.
For details on entering the give-away, see The Give-Away below.
So my blog is not so much about promoting a product as providing instructions for how to do something, so of course, this is going to be a "how to" article. So here is how easy it is to record a video.
Sometimes you want to record something on your desktop. For a blogger like myself, I want to record how something hard is done on a computer. I have int the past used VMWare's recording feature but it doesn't record sound. I want both sound and video.
Even though I am geek and a developer and I don't mind compiling some open source tool from scratch, I am also a fan of quality technology that just works. For recording my desktop or any application with video and sound, Camtasia Studio studio just works. While it is not open source, Camtasia Studio is well worth the license fee for me.
About Camtasia Studio
Let's talk about Camtasia Studio. Camtasia Studio has a single installer, but like many products it is more of a suite or "studio" of feature.
There are five features installed:
Camtasia Studio
Camtasia MenuMaker
Camtasia Player
Camtasia Recorder
Camtasia Theater
I have mostly used the Recorder and Camtasia Studio.
Easy posting to YouTube or ScreenCast
Camtasia Studio makes uploading a video to YouTube or ScreenCast easy. All you need is your username and password and Camtasia Studio does the work for you.
It automatically opens your browser and takes you to the link to your online video.
The Give-Away
So Camtasia Studio is giving away a free License.
Mac or Windows? They have a version for Windows and Mac and so the winner can choose which license they want.
Version: Yes, we will be giving away the new version of Camtasia Studio.
Start date: Friday, June 1, 2012.
End date: Monday, July 2, 2012.
Here is how you can enter to win it.
Step 1
Like Camtasia Studio on Facebook. Just click the image as it is a link.

Step 2
Enter your email address. Yes, I will need your email address to contact you if you win!
Your done!
That is it. You are now entered into the give-away.