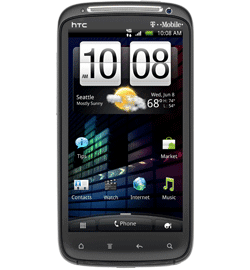 So my new HTC Sensation with T-Mobile arrived today, and I got it for less than $199 it would have cost through T-Mobile direct.
I just thought I would tell you how I got the discount. This discount is not limited to T-Mobile or the HTC Sensation, but is pretty much with any phone you get, and for any company, including Verizon, that you choose to use as your carrier. The discount is different on different phones, but it can save you some money.
Linda Barneck, is an Independent Business Owner in a multi-level-marketing (MLM) company called ACN (Yes, this is the company that was promoted on The Apprentice) but I didn't get this deal due to family relation. It turns out that anybody who orders through Linda Barneck's Independent Business Owner site can get this discount.
So click this link and order you new phone with this discount now.
Get your Android Phone at a discount with ACN Wireless Exclusive Deals! 
There are a lot more products that you can get through ACN. You could get a Tablet with a data plan, or a Video Phone, or Satellite TV, or other cool products. See a what products are available in your area here:
Shop for ACN Products & Services
I have personally chosen to not participate directly in MLMs, though I have no problem buying product from an MLM especially if it saves me money, which is what I am doing in this instance. I benefit in no way from you ordering your phone through ACN. My mother did not solicit this post. I am writing this only because I got my phone at a discount.
I almost joined ACN. With ACN being a "techie's MLM", I was almost tempted to join. If you are interested in an MLM and you are a bit high-tech, you can become an Independent Business Owner and then buy yourself a new phone through you own account. Just go check out Linda Barneck's ACN Independent Business Owner page and then click on the "Get Started" link.